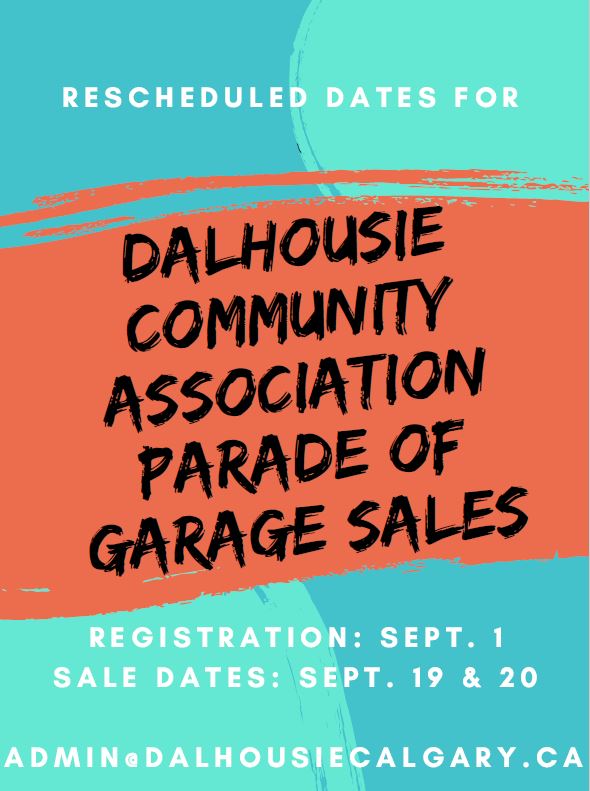 2020 Parade of Garage Sales and Parking Lot Sale
It is almost that time of year! We had listened to you and have moved our Parade of Garage Sales back to May, however due to COVID-19 we have changed the dates to September.  This year the Parade of Garage Sales will be on September 19 and 20, 2020.  Registration opens September 1st online at with the forms on the link below that can be emailed to admin@dalhousisecalgary.ca, or  at the Dalhousie Community Centre front office once the centre re-opens from COVID-19.  You do not need a current DCA membership, however you do need to have your sale at a Dalhousie residence.  You can register for one or both days if you wish – it is the same price.
Our Parking Lot Sale was great last year, and we are doing it again this year! It will be held only on August 8th in the DCA Parking Lot.  You will be provided a parking stall and an 8ft table for your area. You do not need a DCA membership and you do not need to be a resident of Dalhousie to participate.
$10 registration for each event.  Registration costs include the marketing of the event, a garage sale sign, a table (if applicable), and will be included in the garage sale map that is produced and provided by the Dalhousie Community Centre online and at the office.
Registration closes September 15th, 2020 by 12 p.m.
These events will be happening rain or shine – no refunds!
Registration Forms Are Below:
2020 Parade Of Garage Sale Registration Form